The card of the week. Let's clean up your vibe.
Unconditional Joy
Dear Archangel Raphael, thank you for helping me appreciates everything that makes me happy right now.
Possible specific meaning: Notice three things that make you feel happy.

Sometime, you cannot believe that you are rather on the "happy" side and not in the "worst situation". When in the Philippines, you will find the people who can validate that happiness is the state of mind under any circumstances, even more so in places like slums, dirty alleys in the metropolitan area or a garbage dump site.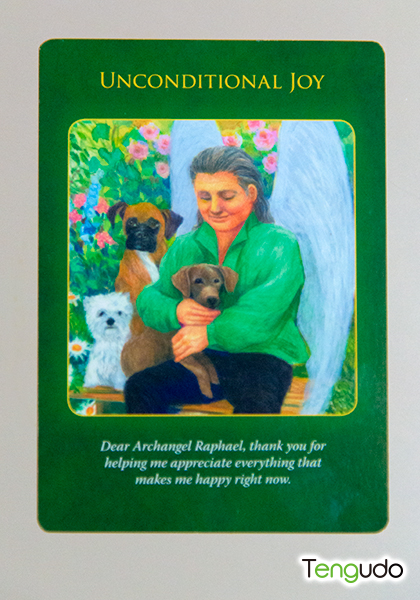 A while ago, young couple with a child was living on the street near Fuente Osmenia in Cebu City. Their baby must have been less than 12 months old. From where I saw, they were in the very bad situation. I was sorry because they did not seem to able to send the child to school years later. They smiled and said knowingly "Koreano (Korean)" to me. They seemed to be wondering what my nationality was and somehow convinced that I must have been a Korean and apparently it made their day.
I was astounded that by their attitude toward life. The contrast was even clearer to me. Why must I always find the dark side in everything I see? Is it possible it was me who wanted to find the dark side in life?
There are a number of people who works in a big company, owns good stuff at home and workplaces but suffered from a stress-related mental disorders. To me, what is the vindication that stress-related mental disorders come from inside the head, not like other diseases such as a cold that comes from outside.
Let's find what you are grateful for. You might have to try a bit in the beginning to be thankful for what you have. Let me begin first.
I wanted to go for a walk. It is the perfect weather for that. Thanks.
I was too busy to do grocery shopping until today. We needed rice and kerosene and we can finally go to a market. I am excited!
Our breakfast this morning was the bread from yesterday. It is soft and fluffy as it is still less than 24 hours since it was out of oven. We know how the freshly baked bread tastes. So does freshly picked veges, freshly pounded rice cakes and freshly opened wine. I am deeply thankful for those riches of life. Thank you.
Be assertive, Do what you want. Love life. Your happy vibe makes people and our planet happy!